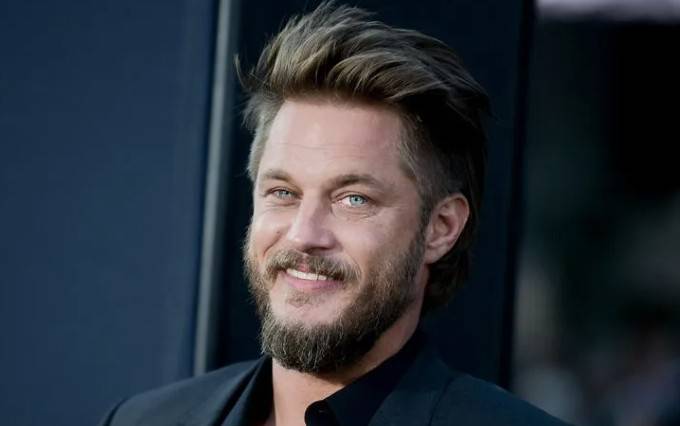 Australian actor who started his career as a model and became known to the world with his breakout role of King Ragnar Lothbrok in the critically acclaimed historical drama series Vikings. Born on July 15, 1979, Travis Fimmel aspired to become a footballer but a sustained injury before a tournament led him to choose a different path. He signed with LA Models in 2002 and became the first-ever model to sign a six-figure deal with Calvin Klein. He began his acting career in 2003 when he secured the titular role in Warner Bros. 2003 TV series Tarzan. Being named the world's sexiest bachelor by America's People magazine, Travis has forged a place for himself in the entertainment industry. His other acting credits include Caleb in Raised by Wolves, Anduin Lothar in Warcraft, Major Harry Smith in Danger Close: The Battle of Long Tan, and Marlon Veidt in Zone 414, among others. He has amassed over 3 million followers on Instagram.
Travis Fimmel Biography
Birth Name
Travis Fimmel
Nick Name
Rangi
Born
July 15, 1979
Age
42 years old
Birth Place
Echuca, Victoria, Australia
Birth Sign
Cancer
Profession
Actor, Former Model
Nationality
Australian
Family and Education
Travis Fimmel is the youngest of three children, born to Chris, a cattle farmer, and Jennie, a recreation officer for the disabled. He spent his early life growing up on a 5500-acre family farm, where he used to work on the farm after school. After high school, he was accepted into RMIT to study commercial architecture and engineering but he deferred his studies and moved to the United States to focus on his modeling career.
Religion
Atheist
Residence
Los Angeles, California, United States
Travis Fimmel Love Life
Travis Fimmel is notoriously private when it comes to his dating life. He stays completely out of social life which is why he is not even on Facebook, Instagram, and Twitter. He prefers to keep his life private and stay away from the media limelight. Though he had affairs with many actresses at various points in his life, he's still single and not married yet.
He began dating English singer Nicole Appleton in 1993 which seems to be his first publicly known relationship with a woman. He personally confirmed the relationship, but it was short-lived. According to media outlets, Nicole doesn't want to continue her relationship with Travis and dumped him a few months after dating him.
The next one on our list is American actress Merrin Dungey. She was eight years older than him. Travis and Merrin dated briefly before he started seeing American model and actress Jessica Miller. In fact, this relationship was also short-lived and fell through quickly and he was seen hanging out with another model, this time from New Zealand. Rachel Hunger and Travis Fimmel dated for a while and parted ways soon.
In 2007, Tavis made news when he was spotted with American actress Mei Melancon. They dated for over a year and broke up in 2008. He then began dating actress Gina Gershon, known for her roles in Riverdale and Brooklyn 99. They attended a red carpet event together in 2016 but nothing was confirmed from both sides. He was also rumored to be in a relationship with his Vikings co-star Katheryn Winnick.
Most recently, he was linked to his Warcraft co-star Paula Patton.
Body Statistics
Height
6 feet or 183 inches
Body Build
Athletic
Hair Color
Blonde
Eye Color
Blue
Sexuality
Straight
Claim to Fame
After a successful stint in modeling, Travis Fimmel ventured into acting in 2003 with the Warner Bros. series Tarzan, portraying the lead role, co-starring with Sarah Wayne Callies and Miguel A. Núñez Jr. Over the next 10 years, he took on varied roles in both small and big screens.
Fimmel would make a bigger splash with a role on A&E's 2009 series The Beast, playing the role of rookie undercover FBI agent Ellis Dove partnered with a hardened veteran cop, Swayze's Charles Barker, played by Patrick Swayze. His next stunning appearance came in 2013 in the redneck Southern comedy flick The Baytown Outlaws. He was cast in the role of McQueen Oodie, one of the three hapless Oodie brothers who bites off more than he can chew when he agrees to help a woman get her godson back from her deadbeat ex-husband, co-starring with Billy Bob Thornton and Eva Longoria.
Fimmel then took on the role of Lazarus Fell in the 2010 thriller movie Harodim, series before joining the cast of the History in the drama television series Vikings, co-starring Alexander Ludwig, Katheryn Winnick, Gabriel Byrne, and Linus Roache. It was Fimmel's breakthrough role – King Ragnar Lothbrok, a fierce Viking warrior from Kattegat. Ragnar would journey throughout England, becoming Earl, and later King, putting him on the radar of the global cinema. He was lauded for his performance as well as received critical acclaim. On the heels of that resounding success, Travis Fimmel made headlines when he took on the lead role of Caleb in HBO Max's science fiction drama Raised by Wolves.
Travis Fimmel Net Worth
Thanks to the diversity of roles he had starred in both television and films, Travis Fimmel has accumulated a whopping net worth of $13 million as of 2023. He has achieved so much fame
Travis Fimmel Facts
Growing up, he was obsessed with Football which take him to Sydney to pursue a career in Australian Rules Football. He sustained an injury before the start of the season and that eventually ended his football career.
After his dream shattered, he began to explore other options and did odd jobs to provide for himself. It was during this time, that a talent scout from Chadwicks modeling agency discovered him while he was working out in a Melbourne gym. He then signed with L.A. Models.
He modeled for Calvin Kelin for their underwear products and Crave men's fragrance campaign.
In 2002, Travis was named one of the World's Sexiest Bachelors by People Magazine.
During the peak of his modeling career, he got a chance to be a judge on the TV series Make Me A Supermodel, but he refused to take on as he entirely focused on building a career in the acting profession.
Travis was trained by Hollywood acting trainer Ivana Chubbuck for two years.
During his free time, he enjoys outdoor activities such as Australian rules football, fishing, camping, horse riding, surfing, riding motorbikes and going to the beach.
Over the years, he has worked with some of the biggest names in Hollywood like Margot Robbie, Ethan Hawke, Julianne Moore, Billy Bob Thornton, Eva Longoria, Matthew McConaughey, and Woody Harrelson.