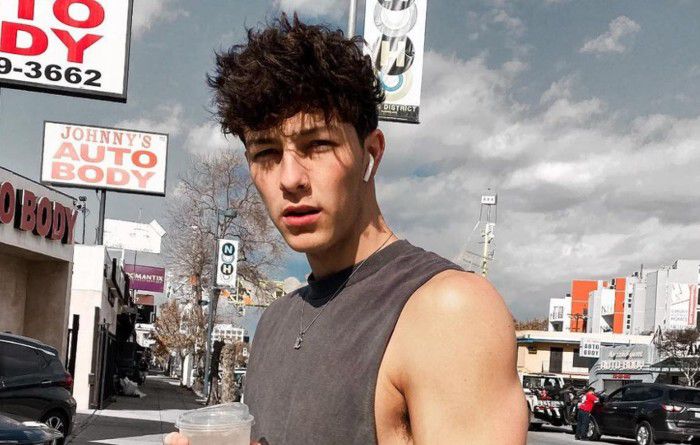 Tayler Holder is an American social media personality, singer, TikTok star, actor, and influencer. Born in Texas, he moved to Los Angeles to pursue his dreams and took full advantage of social media where he has accumulated a huge fan following. The LA-based multitalented star is all over the internet, thanks to his stellar online presence, and he's got over 20 million followers on TikTok, and 6.5 million followers on Instagram. As a member of the TikTok collaborative group, The Hype House, Holder often does collab content with its members like Charli D'Amelio, Addison Rae, Avani Gregg, Noah Beck, Tony Lopez, and Chase Hudson. It is without a doubt that he makes a lot of money through his content, collaborations, endorsements, and sponsorship.
As of 2023, Tayler Holder has an estimated net worth of $1 million.
Biography and Age
Tayler Holder was born on August 19, 1997, in Alvarado, a small town south of Dallas, Texas. He is now 25 years old and his zodiac sign is Leo. Check out to find which celebrities are Leo and share their birthday with Holder.
Birth Name: Tayler Holder
Nickname: Tayler
Date of Birth: August 19, 1997
Birth Place: Alvarado, Dallas, Texas, U.S.
Age: 25 years old
Sun Sign: Leo
Nationality: American
Profession: Socia Media Star, Singer, Actor, TikToker
Height: 6 feet 1 inch
Hair Color: Black
Eye Color: Dark Brown
Net Worth: $1 Million
Family and Early Life
Taylor is the youngest child of Monte Holder and Wendy Holder. He has an older brother, Trver apart from an adopted sister. Besides that, not much is known about his personal life, including details about his childhood and education.
But from an early age, he wanted to pursue a career in the entertainment industry. He enjoys the motocross sport as much as he loves performing. He's been into competitive motocross racing since he has 3 years old and his passion for the sport landed him a role in the TV show, Dirt, where he plays Luke Dungey.
Career Overview
Holder was just 18 years old when he decided to move out to Los Angeles to try his luck in Hollywood. He has since tried hard to get a breakthrough in the entertainment industry. He took the internet by storm when he joined the short video-sharing app, TikTok, thanks to his charming looks and hilarious.
He's also a passionate singer. Apart from making covers of popular artists, he has also released singles like "Fallback" and "Who I Am". He has covered songs like "One Wish" by Ray J, "Toes" by DaBaby, and "Off The Wall" by XXXTentacion featuring Ski Mask the Slump God.
That literally paid off, and he has amassed more than 20 million fans on TikTok at the time of writing this piece of content. The Texas native has recently joined the popular TikTok Hype House collective. But even before becoming a member of the group, he has done collab videos with the members of the house regularly. He has mostly collaborated with Bryce Hall, Noah Beck, and Tony Lopez.
In 2018, he starred in the Brat TV drama series Dirt, making his mark in the show business. On the show, he played the lead role of "Luke Dungey" starring alongside Lilia Buckingham and Kalani Hilliker. He reprised his role as Luke in an episode of the TV show Total Eclipse in September 2018.
Holder enjoys a massive fan following on Instagram, YouTube, and other social media platforms. He has an impressive 6.5 million followers on Instagram and over 2 million subscribers on his self-titled YouTube channel. On Twitter, he's got over 1.5 million followers.
Tayler Holder Girlfriend and Love Life
Though he's single right now, he has had a romantic past with fellow social media stars. It appears that he had a romantic relationship with model and dancer Kaylyn Slevin in 2019. Later that year, Holder opened up about his breakup with Slevin in a video where he said that she broke up with him because she was so busy.
Then he dated briefly fitness model and social media personality Sommer Ray. Recently, he broke up with his ex-girlfriend, Charly Jordan, who is also a social media star. They ended their relationship after dating for about five months. She is quite famous on Instagram where she has over 3.5 million followers.
Tayler Holder Net Worth
Being a social media star, it's no surprise that he's swimming in dough, thanks to lucrative endorsement and sponsorship deals. With a combined following of more than 25 million followers across social media platforms, he works together with brands to promote their products and he's paid a hefty paycheck for each collaboration. In addition, he has a mech line.
As of 2023, Tayler Holder is reportedly worth over $1 million dollars.
Trivia
In December 2020, he collaborated with Kelianne Stankus and Nate Wyatt on a Christmas song titled "Feels Like Christmas".
He has two tattoos.
He released his first single titled "Who I Am" in 2017.
Holder toured alongside Indiana Massara, Zach Clayton, and Joey Birlem in 2018.
Holder has been featured in several music videos, including Tangled" by Kylee Renee.
He owns a white Lamborghini Huracan car.