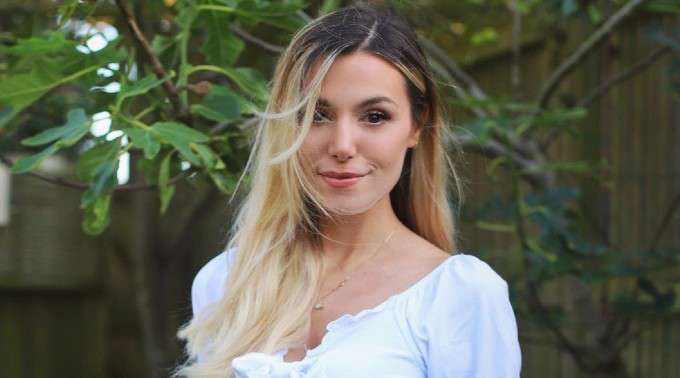 Marzia Kjellberg, born Marzia Bisognin, is a talented content creator and YouTuber from Italy. She is a fashion icon who has great taste in fashion from a young age and educates people by providing fashion tips and beauty advice through her YouTube channel, Marzia (formerly CutiePieMarzia). Marzia doesn't stop with that, she also gives video game commentary, and DIY tips for household issues. Her channel is very popular and has accumulated more than 7.3 million subscribers. She is also a writer and entrepreneur. Literally, YouTube is a part of her life that helped to find her husband, Felix Kjellberg (popularly known as PewDiePie), who is the world's most popular YouTuber. Marzia has made a significant mark in the world of social media with her charming personality, creativity, and unique sense of fashion style.
Marzia Kjellberg Biography
Marzia Bisognin was born on October 21, 1992, in Arzignano, Vicenza, Veneto, Italy. According to her birthday, she is 31 years old as of 2023.
| | |
| --- | --- |
| Birth Name | Marzia Bisognin |
| Nickname | CutiePieMarzia |
| Date of Birth | October 21, 1992 |
| Age | 31 years old |
| Place of Birth | Arzignano, Vicenza, Italy |
| Zodiac Sign | Libra |
| Profession | YouTuber, Content Creator, Businesswoman, Fashion Designer |
| Nationality | Italian |
| Ethnicity | Italian |
| Marital Status | Married |
| Spouse | Felix Kjellberg aka PewDiePie |
| Children | 1 |
| Residence | Tokyo, Japan |
| Net Worth | $5 Million |
| | |
Family and Early Life
Marzia was born in Arzignano, a small picturesque town in the Province of Vicenza, Italy, to Parents Marziano Bisognin and Franca Bisognin. She has a brother named Davide Bisognin, who is also a YouTuber and content creator.
Marzia Bisognin Husband
Marzia began dating her then-boyfriend, now husband Felix Kjellberg, better known to the world as PewDiePie, in 2011. They were introduced through mutual friends and quickly developed a deep connection. The couple's love story has been a source of inspiration for their many fans, with their engagement in 2018 and subsequent wedding in 2019 capturing the hearts of millions worldwide. they have a son named Björn, born on July 11, 2023.
Body Measurements
| | |
| --- | --- |
| Height | 5 feet 5¼ inches or 166 cm |
| Body Build | Slim |
| Hair Color | Dark Brown |
| Eye Color | Dark Brown |
| Sexuality | Straight |
| Shoe Size | 6.5 (US) |
| Dress Size | 6 (US) |
Career and Net Worth
Marzia's early life was marked by a passion for creativity. She was drawn to fashion, design, and art, which later became integral parts of her online presence. Her path to stardom began in 2012 when she launched her YouTube channel, CutiePieMarzia, where she posted content about fashion, beauty, and lifestyle, quickly amassing a dedicated following. Her unique style and soothing personality resonated with viewers, helping her reach millions of subscribers.
She later moved to Sweden, a decision that would ultimately change the course of her life. It was there that she met PewDiePie, whose real name is Felix Kjellberg, and the two began their journey together. She appeared in most of his videos and they collaborated together on various projects, including the online marketing campaign for the horror film, As Above, So Below.
Marzia announced her retirement from making videos for YouTube in 2018, and subsequently, deleted all her videos from her channel. Though the channel is still active, boasting around 7.3 million subscribers, it doesn't feature any videos.
In addition to her YouTube career, Marzia ventured into various creative pursuits. She authored a book titled "La Dolce Vita," launched her own fashion line, "TSUKI," and explored the world of interior design. She's also the co-founder of Mai and Mai Accents, an online gift store.
As of 2023, Marzia has an estimated net worth of US$5 million. The YouTube sensation makes big from her videos, sponsorship, and endorsements. She also has her own line of nail polish in partnership with Zoya and a subscription beauty box with ReelStyle Creator Company.
Marzia Bisognin Facts
Marzia often refers to her fans as Marzipans.
With her increasing popularity, the fashion icon launched her own line of clothing and accessories in 2015. You can buy her collection from her online store.
In 2015, the Keywords Press published her horror book, titled "La Casa Dei Sogni" in Italian and "Dream House" in English.
Marzia has the word 'Shy' inked on her forearm in homage to her introverted behavior. She also has 'La casa sulla luna' tattoo, which translates to 'The house on the moon.'
FAQs
Who is Marzia Kjellberg?
Marzia Kjellberg is a fashion designer, entrepreneur, and former YouTube personality who has amassed millions of fans across social media platforms. She is the wife of PewDiePie, the world's most popular social media influencer.
What is the age of Marzia Kjellberg?
Marzia Kjellberg is currently 31 years old.
When is Marzia Kjellberg's birthday?
Marzia Kjellberg celebrates her birthday on October 21.
Who is Marzia Kjellberg's spouse?
Marzia Kjellberg's husband's name is Felix Kjellberg, better known online as PewDiePie.
What is Marzia Kjellberg's net worth?
Marzia Kjellberg has a net worth of $5 million dollars.