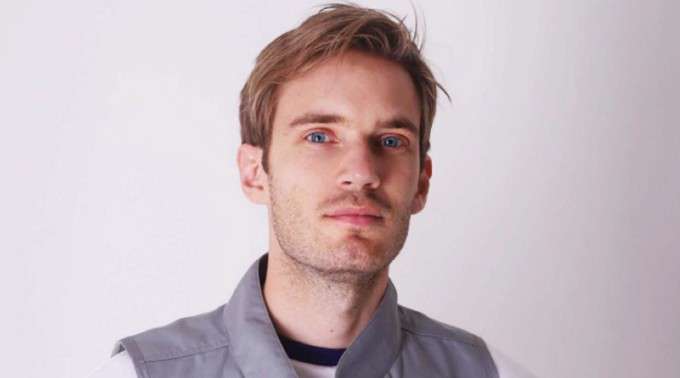 Felix Arvid Ulf Kjellberg, popularly known online as PewDiePie, is a happening YouTube star in the world of the internet. He makes videos out of video games (Yeah! If you are a video gamer, there is no way that you would miss him), Vlogs and Let's Play commentaries. With millions of followers across the world, PewDiePie has ascended to a level of fame and success that few can rival. Born on October 24, 1989, in Sweden, PewDiePie is the sixth most subscribed channel with more than 111 million subscribers. He is the richest YouTube star on Earth as of now, and his unbelievable wealth comes from YouTube, brand endorsement, and business endeavors. This biography delves into the life of the man behind the screen and the incredible journey that has taken him from a young Swedish gamer to the king of YouTube.
PewDiePie Biography
PewDiePie was born on October 24, 1989, in Gothenburg, Sweden. According to his birthday, he is 34 years old.
| | |
| --- | --- |
| Birth Name | Felix Arvid Ulf Kjellberg |
| Nickname | PewDiePie, Pewds, PewDie, PooDiePie, Poods |
| Born | October 24, 1989 |
| Age | 24 years old |
| Place of Birth | Gothenburg, Västergötland and Bohuslän, Sweden |
| Zodiac Sign | Scorpio |
| Profession | YouTuber, Comedian, Entrepreneur |
| Nationality | Swedish |
| Ethnicity | Swedish |
| Marital Status | Married |
| Spouse | Marzia Kjellberg |
| Children | 1 |
| Religion | Agnostic Atheist |
| Residence | Tokyo, Japan |
| Net Worth | $40 Million |
Family and Early Life
PewDiePie was born in 1989 to parents Ulf Christian Kjellberg, and Lotta Kristine Johanna. His father is a corporate executive, and his mother is a former CIO of a corporate company in Sweden. In 2010, she was named the CIO of the Year in Sweden. He has a sister named Fanny.
Felix attended Göteborgs Högre Samskola in Gothenburg and graduated in 2008. He enrolled at the Chalmers University of Technology to study Industrial Economics and Technology Management. But he dropped out of college in 2011 citing that he lacked interest in pursuing his studies further.
PewDiePie Wife and Children
Felix Kjellberg married his longtime girlfriend and fellow YouTuber Marzia Bisognin in 2019. They came to know each other through their mutual friend Diazo and they started dating in 2011. They have a son named Björn, born on July 11, 2023.
Body Measurements
| | |
| --- | --- |
| Height | 5 feet 11 inches or 180 cm |
| Body Build | Slim |
| Hair Color | Blond |
| Eye Color | Blue |
| Sexuality | Sexuality |
Professional Statistics
Film Debut
In 2015, he appeared in his first action-adventure theatrical film Tomorrowland for his uncredited role as PewDiePie.
Television Debut
His first TV appearance came in the form of an interview in a 2-episode series on Sveriges Television in 2012.
PewDiePie Net Worth
PewDiePie is the most celebrated celebrity on the video-uploading platform in terms of popularity and money factor. He's the highest-earning person on the platform. In 2013, PewDiePie was named the highest-paid YouTube star in the world with earnings of $12 million. In 2014, his earnings topped US$14 million. In 2015, he earned $9 million. In 2016, PewDiePie made a cool US$15 million, which is up 20% from his previous year earnings. Not only that, his other business ventures include his own video production company, PewDie Productions AB which roughly made US$7.5 million in 2014. This YouTube star has an estimated net worth of US$21 million as of 2017.
It is reported that Felix Kjellberg pays 45% of his income as taxes to the Swedish government. His YouTube earning was sizeable and even wow, and roughly, he has made US$50 million off YouTube since 2014. Obviously, his source of income includes YouTube ad revenue, advertisements, endorsements, and sponsorship.
At the same time, Felix is also known for his generous charitable efforts, has raised several million dollars through charity campaigns on YouTube, and donated to charity works. He had also given away millions of dollars in charity. He owns a Porsche 911 worth of $123,650.
PewDiePie Favorites
Favorite Music Band – Radiohead
Favorite Music Album – In Rainbows
Favorite Video Game Character – Sho Minamimoto from The World Ends With You (Nintendo DS game)
Social Media Portfolio
Interesting Facts About PewDiePie
He launched his YouTube Channel, PewDiePie on the 29th of April 2010. His first video was a Minecraft playthrough.
After his parents refused to support his fledgling YouTube career, he took to working at a hot dog stand to raise funds for his work.
PewDiePie's other miscellaneous jobs include working as a captain at the harbor and doing menial work on the tennis court.
His channel has grown over the years, which is now the no. 1 channel on YouTube with over 57.8 million subscribers and 16.3 billion views as of November 2017.
Felix Kjellberg refers to his fans as the 'Bro Army', made up of his 'Bros', and he typically performs a 'Brofist' at the end of each of his videos.
On 20 October 2015, PewDiePie published his book "This Book Loves You", a parody of self-help books in association with Penguin Group. The book includes a collection of aphorisms, jokes, and wisdom, paired with visuals.
In September 2015, he launched his first video game PewDiePie: Legend of the Brofist for iOS and Android. His second game PewDiePie's Tuber Simulator was launched in September 2016.
Felix Kjellberg has two pet dogs, Edgar and Maya. Maya has only one eye.
He has raised money for various charity works with his fanbase of "Bro Army". He raised more than $630,000 for the charity Save the Children in June 2014.
In February 2017, PewDiePie lost his YouTube Red show after it was revealed that several of his videos contained antisemitic references.
In June 2017, PewDiePie ranked #2 in the "Top Influencers" list by Forbes in the Gaming category behind Markiplier.
PewDiePie has owned several accolades including Starcount Social Star Awards for "Most Popular Social Show" and "Sweden Social Star Award" in 2013, Teen Choice Awards for Choice Web Star: Male (2015), 8th Shorty Awards for YouTuber of The Year (2016), 43rd People's Choice Awards for Favorite YouTube Star (2017), amongst others.
In August 2019, YouTube awarded him a Red Diamond Play Button for reaching 100 million subscribers on the platform.