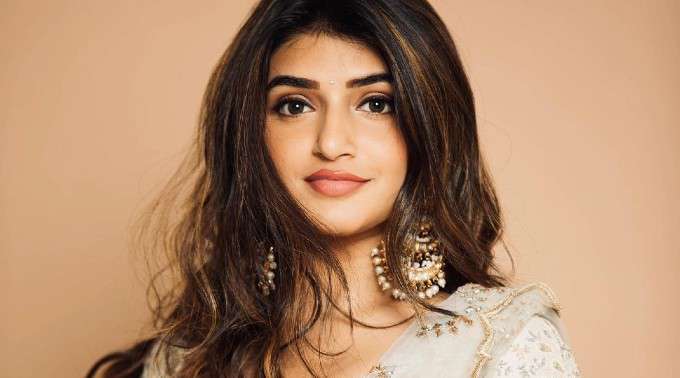 Sreeleela is an American-born Indian actress who has carved a niche for herself with her remarkable acting prowess and magnetic screen presence. She made her acting debut at age 18, starring opposite Viraat in A. P. Arjun's romantic comedy-drama film, Kiss, for which she won the Best Female Debut – Kannada at the SIIMA Awards. Her vibrant personality and magnetic screen presence caught the attention of filmmakers, leading to appearances in movies like Bharaate, Pelli SandaD, By Two Love, and James. In 2022, she starred alongside Ravi Teja and Jayaram in the action-comedy film, Dhamaka. With more than half a dozen films in her kitty, she has become a beloved figure in the hearts of millions. This biography delves into the various facets of Sreeleela's life, from her humble beginnings to her meteoric rise in the film industry.
Sreeleela Biography
Sreeleela was born on June 14, 2001, in Detroit, Michigan, United States. According to her birthday, she is 22 years old as of 2023.
| | |
| --- | --- |
| Birth Name | Sree Leela |
| Nickname | Sree |
| Born | June 14, 2001 |
| Age | 22 years old |
| Zodiac Sign | Cancer |
| Birth Place | Detroit, Michigan, United States |
| Profession | Actress, Medical Student |
| Ethnicity | Telugu (Indian) |
| Nationality | American, Indian |
| Relationship Status | Single |
| Religion | Hinduism |
| Residence | Bengaluru, Karnataka, India |
Family and Early Life
Sreeleela was born to Indian parents of Telugu descent in Detroit, Michigan, United States. Her parents are Swarnalatha and Surapaneni Subhakara Rao,. Her mother is a gynecologist while her father is a businessman. Her parents separated when she was in her mother's womb, and following her birth, her mother returned to India and settled in Bengaluru.
After completing her schooling at a prestigious institution in Bangalore, she pursued medicine at a reputed medical college in Bengaluru. She completed her MBBS in 2022. She's trained in Bharatanatyam, an Indian classical dance form, a skill that later proved invaluable in her acting career.
Personal Life
Sreeleela has been discreet about her personal life, and her dating life remains largely private. She prefers to keep her focus on her career, letting her work speak for itself. This guarded approach has only added to her enigmatic allure, leaving fans intrigued about her romantic interests.
Body Measurements
| | |
| --- | --- |
| Height | 5 feet 6 inches or 168 cm |
| Body Build | Slim |
| Hair Color | Dark Brown |
| Eye Color | Dark Brown |
| Sexuality | Straight |
Career
Sreeleela's journey into the world of entertainment began with modeling assignments and a stint in television. However, it was her breakthrough role in the critically acclaimed Kannada film, Kiss, marked the turning point in her career. She played Nandini opposite debutante Viraat, which earned her the Best Female Debut – Kannada at the 2019 SIIMA Awards. On the heels of the success of Kiss, she was cast opposite Roshan Meka in the Telugu-language film Pelli SandaD, winning Most Promising Newcomer (Female) at the 2022 SIIMA Awards.
Her ability to seamlessly embody diverse characters, coupled with her commitment to bringing authenticity to each role, earned her accolades from both audiences and industry insiders. With subsequent hits, Sreeleela has become the most sought-after actor in the Telugu film industry. The actress has been a part of various movies, including the likes of Aadikeshava, Skanda, Bhagavanth Kesari, Guntur Kaaram, and Ustaad Bhagat Singh.
With every role she undertakes, Sreeleela continues to captivate audiences, leaving an indelible mark on the tapestry of Indian cinema. Her powerful performances have earned her accolades from regional film festivals, further cementing her status as an actress of substance.
FAQ
When was Sreeleela born?
Sreeleela was born on June 14, 2001, in Detroit, Michigan, United States.
What is the age of Sreeleela?
Sreeleela is 22 years old.
Who is the mother of Sreeleela?
Sreeleela's mother's name is Swarna Latha. She is a gynecologist based in Bangalore.
Who is the father of Sreeleela?
Her father, Subhakar Rao Surapaneni, is a businessman.
What is the height of Sreeleela?
Sreeleela is 5 feet 6 inches tall.
What is the qualification of Sri Leela?
Sreeleela is an MBBS graduate.
Why is Sreeleela so famous?
Sreeleela is best recognized for her starring roles in movies like Kiss and Pelli SandaD. She won two SIIMA Awards for her stellar performances in these films.