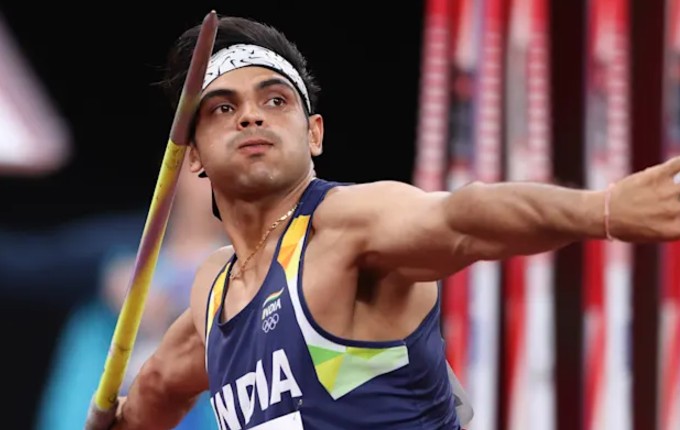 Neeraj Chopra is an Indian javelin thrower and an Olympic Gold medalist. He needs no introduction, at least to 1.25 billion Indians, and the thing that strikes us immediately about him is that his exceptional performance in the recently held Olympics in Tokyo, Japan. Hailing from a small village of Haryana's Panipat district, the 23-year-old javelin thrower made history by clinching gold at the 2020 Tokyo Olympics. Thanks to Neeraj's achievements at such a young age, his name will go down in history as the first-ever Indian Olympian to win a gold medal in field and track events. He's also the second only Indan to win an individual Olympic gold medal after shooter Abhinav Bindra.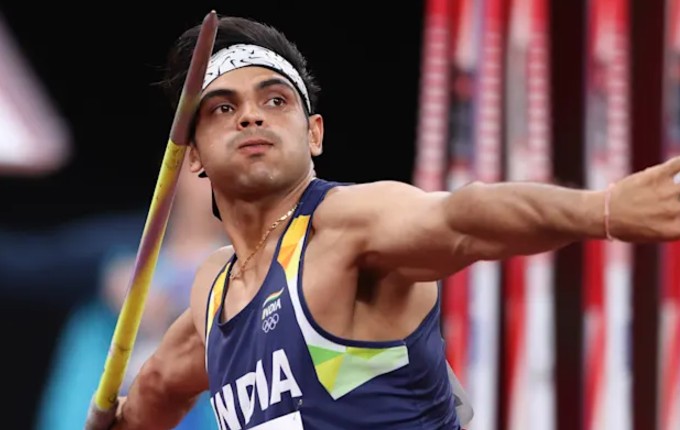 Chopra is one of the most talented and decorated track and field athletes in Indian sports history. He first made his international mark in 2016 when he bagged a gold medal at the World U20 Championships in Bydgoszcz, Poland. He has won gold at various international athletic competitions, including the 2018 Asian Games in Jakarta, and Gold Coast 2018 Commonwealth Games. Outside of his athletic career, he serves in the Indian Army as the Junior Commissioned Officer (JCO).
Neeraj Chopra Biography
Birth Name
Neeraj Chopra
Nick Name
Golden Boy
Born
December 23, 1997
Age
24 years old
Birth Place
Panipat, Haryana, India
Birth Sign
Capricorn
Profession
Tack and Field Athlete
Nationality
Indian
Ethnicity
Indian (Haryanavi)
Family Details
Neeraj Chopra is the son of farmer Satish Kumar and his wife Saroj Debi. He has two sisters, Sangeeta and Sarita. Gowing up, he never had aspired to pursue a career in the sport but was keen on having a healthy and fit physique. He used to visit Panipat stadium for his regular workout session, where he got inspired by looking at some of his seniors practicing javelin throw.
Though Neeraj never knew a thing about javelin throw, he developed a strong liking for the sport and got his hand on it. He was exceptionally good at it and his talent got noticed by the people over there who not only appreciated his talent but also suggested that he'd take up the sport. He began his formal training at the stadium and the rest is history.
Education
Neeraj Chopra attended Dayanand Anglo-Vedic College in Chandigarh, one of the prestigious and renowned colleges in India for sports. He later enrolled at the Lovely Professional University, a private university in Phagwara, Punjab, for his BA degree,
Religion
Hinduism
Residence
Panipat, Haryana, India
Neeraj Chopra Love Life
Neeraj Chopra is known to be secretive when it comes to his romantic aspect of life. While there's a lot of information about his professional career due to his popularity, there's apparently none concerning his love life.
It appears that he's currently single and focused on his athletic career. Moreover, there are no credible sources to prove that he's in a relationship.
Body Statistics
Height
6 feet or 183 cm
Weight
86 kg or 190 lbs
Body Build
Athletic
Hair Color
Black
Eye Color
Dark Brown
Sexuality
Straight
Famous For
A talented track and field athlete, who won his first Olympic gold in the Javelin Throw discipline, with a throw of 87.58 meters.
Aside from winning a gold medal at the 2020 Tokyo Olympics, he has also won gold at the Asian Games, Commonwealth Games, South Asian Games, and the World Junior Championships.
He holds the national record throw of 88.07 meters and the Junior World Champion record throw of 86.48 meters.
Achievements
He has won Gold at the following international competitions:
2016 South Asian Games, Guwahati, India
2016 World U20 Championships, Bydgoszcz, Poland
2017 Asian Championships, Bhubaneswar, India
2018 Commonwealth Games, Gold Coast, Australia
2018 Sotteville Athletics Meet, Sotteville-lès-Rouen, France
2018 Savo Games, Lapinlahti, Finland
2018 Asian Games, Jakarta and Palembang, Indonesia
2021 Olympic Games, Tokyo, Japan
Silver Medal
2016 Asian Junior Championships, Ho Chi Minh City, Vietnam
2017 Asian Grand Prix Series, Jinhua, China
2017 Asian Grand Prix Series, Jiaxing, China
2018 Offenburg Speerwurf Meeting, Offenburg, Germany
Neeraj Chopra Net Worth
Without a doubt, Neeraj is one of the richest Indian athletes, whose net worth is estimated to be somewhere between $3 million to $5 million. He has won over $2 million in cash prizes for winning the gold medal at the Tokyo Olympics.
The State Government of Haryana from where he hails has awarded 6 crore rupees in cash and the Government of Indian has announced a 75 lakh rupees cash reward.
Neeraj Chopra Facts
As a teenager, he was trained at the Tau Devi Lal Sports Complex in Panchkula and earned international recognition when he won a silver medal at the Youth Olympics Qualification in Bangkok.
In 2015, he joined the NIS Patiala and registered his first gold medal win at the 2016 South Asian Games. He achieved a distance of 84.23 meters with his throw, which was the national record at that time.
That same year, he set a record at the World U20 Championships in Bydgoszcz, Poland, with a throw of 86.48m and eventually won gold.
He finished off the 2017 season with one gold, two silvers, and a bronze medal.
Neeraj made his Asian Games debut in 2018 where he outset his previous record to win his first gold at the Asian Games competition.
In September 2018, Chopra was awarded the Arjuna Award, the country's highest sporting honor, for his achievements in the field of sports.
Forbes India included him on their "30 Under 30" list in 2019.
In 2021, Neeraj represented India at the Tokyo Olympics, and won a gold medal, becoming the first Indian Olympian to win a gold medal in track and field events. He also became the second Indian to win an individual Olympic gold medal after shooter Abhinav Bindra.