Donald Trump is an American politician, television celebrity, real-estate developer, and the 45th President of the United States. Trump's net worth is estimated to be $2 Billion as of 2023. His wealth comes from real estate businesses, personal investments, and royalties.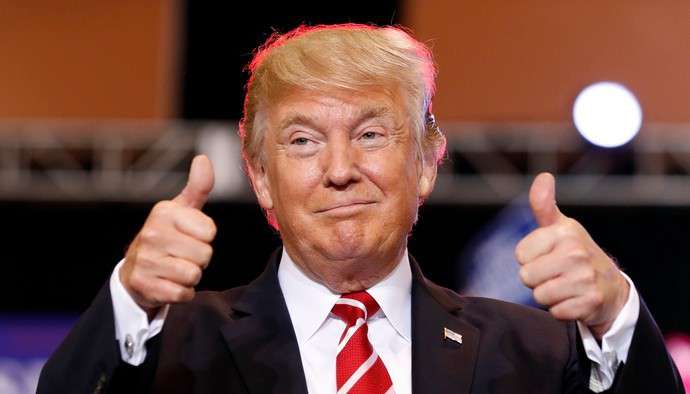 Upon winning the US Presidential Election back in November 2016, he became the wealthiest and the oldest man to assume the office of president. Trump is one of the richest men in America. So how trump gain his gigantic fortune? Check out.
Donald Trump Early Life and Career
Donald Trump was born on June 14th, 1946 in Queens, New York. He was the fourth child to their parents and grew up in the Jamaica Estates neighborhood of Queens, New York. His father is real estate developer Fred Trump. Donald attended Fordham University and the Wharton School at the University of Pennsylvania while working at his father's company. He went to work at his dad's real estate businesses, Elizabeth Trump and Son, the real estate company founded by his parental grandmother after graduating from college.
Donald Trump Net Worth – $2 Billion
Trump inherited the company in 1971 and thereby became the president of the company. He changed the name of the company to the Trump Organization in the same year. His first major success was transforming the bankrupt Commodore Hotel into the Grand Hyatt. He purchased rail yards, airlines, and golf courses. Other Trump properties include Trump Tower, valued at $288 million, Trump World Tower, valued at $290, and a variety of Trump resort casinos located around the United States. In addition, the Trump name is licensed to properties worldwide, earning Trump an estimated $562 million.
Donald Trump's hotel and casino businesses went bankrupt for the first time in the early 1990s where his businesses have faced bankrupt six times between 1991 and 2009. But, he has never been bankrupt. He revived his family businesses by selling partial ownership of several properties and ventures, along with a little financial restructuring and more favorable interest rates on the company's outstanding debt.
He runs several businesses in and around the country under the Trump Organization. Trump posses several resorts and as many as 18 golf courses across the country, which his organization owns or manages. Trump was listed on the initial Forbes List of wealthy individuals in 1982 as having an estimated $200 million fortune, including a share of his father's estimated $200 million net worth.
In 2003, Trump became the executive producer and host of the NBC reality show The Apprentice, in which a group of competitors battled for a high-level management job in one of Trump's commercial enterprises. Trump earned $50,000 per episode (roughly $700,000 for the first season), but following the show's initial success, he was paid $1 million per episode.
Trump is also a fan of WWE and a friend of WEE SEO Vince McMahon. He has participated in several shows and even hosted a couple of WrestleMania between 1988 and 89. Trump's real estate businesses were an estimated $3.5 billion in 2015. Trump has also stakes in television, brand royalties, and beauty pageants. Trump has licensed his name and image for the development of a number of real estate projects including two in Florida that have gone into foreclosure. Trump has emblazoned his name on several properties and businesses around the world, which is said to worth at least $10 billion.
Donald Trump contested in the US presidential election for Democratic against former Secretary of State Hillary Clinton of Republican and won the election to become the 45th President of the United States. His promise to "Make America Great Again" resonated with enough voters to secure an Electoral College victory; though, Trump lost the "popular vote".
After assuming the office in January, Trump signed 6 executive orders in the first week. He had an average of 4.9 false or misleading claims during each of his first 100 days in office. Trump came under fire after he signed an executive order on January 27, suspending admission of refugees from 7 predominantly Muslim countries. In the latest development to the order, the Supreme Court has allowed the partial implementation of the order. Trump signaled his intention to run for a second term by filing with the FEC within hours of assuming the presidency.
Donald Trump Personal Life
Trump has been married thrice; first to Czech model Ivana Zelníčková in 1977, having three children, divorced in 1991. His second marriage with actress Marla Maples bore him the fourth child but divorced in 1999. Trump married Slovene model Melania Knauss in 2005 and they have a son named Barron William Trump.
Donald Trump has five children of three marriages. Donald Trump Jr, Ivanka Trump, Eric Trump, Tiffany Trump, and Barron Trump. Before that he used to live in many of his houses, mostly in Trump Tower and the Mar-a-Lago in Palm Beach, Florida. Trump has a huge collection of expensive luxury cars in his garage. Some of the car brands include Rolls Royce, Mercedes, and Bentley.