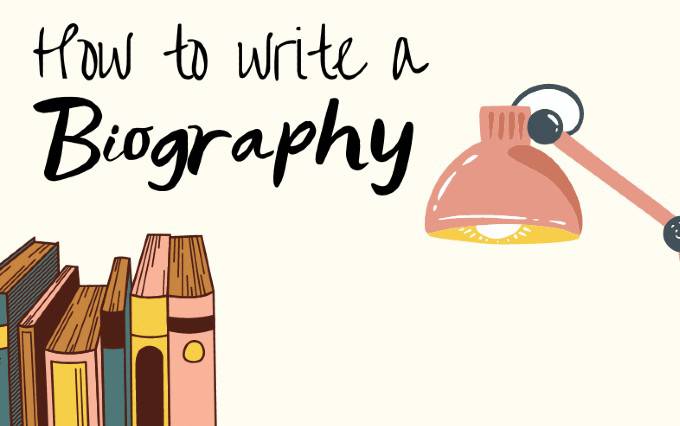 Have you ever admired a popular figure and always wished to understand so much about their lives? Bibliographies provide you the chance to learn about other people's life without necessarily ever meeting them. Authors may choose to write a short biography about a famous person because their story is interesting or to pass across an important lesson to the audience. I am personally a fan of bibliography stories since most are inspiring and educational. Authors may write bibliographies that seek to encourage people or caution the readers on behaviors or lifestyles one should avoid. As college or university students, it is advisable to read bibliographies of popular individuals. I would also recommend learning how to write a biography about a famous person.
Key elements you should include while writing a biography about a famous person
The subject matter
The first consideration when writing a biography about a famous person is the subject you need to share with your audience. This allows you to select and focus on one individual to write about. To enjoy the process of writing a bibliography, it is advisable to write about a subject of interest or an individual you admire. It is necessary because before you even start writing, you will already have vital information about the subject or the popular individual.
You should also ensure there are numerous credible resources for the subject or individual you are writing about. A good bibliography should be well-researched. The credibility of the resources is necessary since you are writing about a real person's life. There is no room for exaggeration or fiction.
The theme of the bibliography
Another important element of a bibliography is the central idea. Like a short story, your bibliography should have a specific theme that defines its content and structure. I would recommend that you settle on the theme after carefully researching and evaluating your subject's life. You will notice a critical occurrence or idea that will make your writing appealing and interesting to your target audience. As you do so, however, you should understand that a person's life does not have themes. Most events unfold without an individual's control. Therefore, as a bibliography writer, you are helping others to make sense of other people's lives.
Significant life experiences
Your bibliography should entail significant life experiences of the person you are writing about. Keep in mind that it is an individual's life you are turning into an interesting story. Therefore, you should select the most eventful experiences to include in the short story. These events should form the plot of the bibliography. Most importantly, consider how each life event contributes to the central idea and the main theme of the bibliography. Your focus will be to guide your readers in understanding how the life events and characters of your subject relate to the main theme as you deliver the message of the bibliography.
Online essay writing services help learners improve their performance by accessing the guidance of professionals. Whether you are a high school, college, or university student, you may need the services of expert tutors to navigate through complex subjects or beat deadlines. Seeking homework assistance from someone with extensive research experience will help you achieve your academic goals. CustomWritings is among the best essay writing services where you could order essays, research papers, and reports, essays among other academic papers. Their professionals will write your paper from scratch to ensure it is original and of high quality. Do not hesitate to contact the company for all your academic help.
Significant character traits
Another integral element of your bibliography is your subject's character traits. You should have a better understanding of your subject's character traits and decide the ones you will ingrain in your bibliography. Such traits are those you want to emphasize in the overall message of the writing. Identifying these traits and successfully presenting them in your bibliography makes your bibliography clearer and paints a clear picture of the famous individual you wrote about. More interestingly, the story will be more appealing to your readers when it sounds like you have a personal touch with the individual you are writing about.
Here are 5 tips to write a biography about a famous person that you should know
Writing a bibliography is interesting and informative. You get the chance to learn important information about people's lives and transform that into a story that would impact your readers' lives. You should therefore ensure that your bibliography is appealing, interesting, and informative to communicate your message. While there may be several ways of writing your bibliography, the following tips should help you write a high-quality bibliography.
Conduct an extensive research
Your bibliography should be factually correct. You must conduct extensive research on the person you are writing about to get as much information about them as possible. For example, if the individual is alive and accessible, you should book an interview with them to get first-hand information from them. Alternatively, you may find numerous journal articles, books, and memoirs, among other resources documenting the life of the famous individual. Use numerous sources to ensure you have the correct accounts of the individuals.
Develop a thesis
You should begin your writing by developing a thesis statement. Like in an essay it will guide the content and the structure of the bibliography. Ensure that the first paragraph prepares the reader to understand what they will learn about the individual. Here are two guiding questions in developing a thesis:
Why am I writing a bibliography about this person?
Why would people opt to read the bibliography rather than search for information about the individual from other sources such as the internet?
Create a timeline
Since a bibliography structures an individual's life events in chronological order, you should know the order of events in the life of your subject. Having a clear timeline will save you time and the stress of reorganizing your ideas as you write your story.
Begin writing your draft
When writing your draft, keep in mind that you are writing about an individual as well as for a reader. Ensure that your story is both informative and captivating. Ensure that nothing could be misinterpreted in the bibliography. Remain as truthful as possible. Focus on the content and structure of the bibliography at this stage. Just like in writing an academic paper, you may need to write several drafts until you get it right.
Write the final draft
Once you are satisfied with the draft, proceed to write your final bibliography about a famous person. At this stage, proofread and edit the draft. Check whether there is any factual inconsistency or other errors such as grammatical. Ensure the story is interesting for the reader. Good luck with your writing!