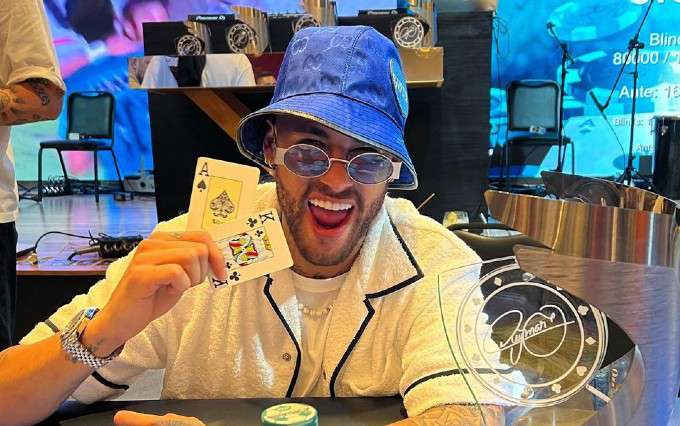 Neymar Jr. is considered by most to be one of the best footballers in the world, playing today. After playing street football and futsal he came through the ranks at the Santos youth team in São Paulo, Brazil before a four-year stint at Barcelona in Spain where he truly put his name on the map. He transferred to Paris St. Germain in 2017 for a record sum of 222 million EUR where he still plays today.
Internationally, Neymar has been included in the Brazil team that won the 2013 FIFA Confederations Cup and the under 23 Olympic gold medal-winning squad in Rio de Janeiro, 2016. Off the field, the athlete has a penchant for poker tournaments. He first began playing during the 2014 World Cup but is so enamored with the game that he even named his dog, 'Poker'.
Neymar Jr. Biography
Birth Name
Neymar da Silva Santos Júnior
Nick Name
Neymar
Born
February 5, 1992
Age
31 years old
Birth Place
Mogi das Cruzes, Brazil
Birth Sign
Aquarius
Profession
Athlete, Footballer
Position
Forward
Nationality
Brazilian
Ethnicity
He is of Brazilian ancestry with a black father and white mother.
Family Details
Neymar Jr.'s parents are Neymar Santos Sr. and Nadine da Silva. He was named after his father, who was also a professional footballer and later became his mentor as Neymar Jr. began to show promise on the football pitch.
The Brazilian superstar has one sibling, Rafaella who is four years his junior. Rafaella legally changed her surname to Beckran as soon as she was old enough to, in homage to David Beckham, whom she idolized since she was a child.
Although not related by blood, Neymar also considers JoclécioAmancio dos Santos his brother of sorts. They first met in the youth team at Santos FC at the age of 13 and have been inseparable since even living in the same house for seven years.
Education
Neymar attended Lupe Picasso high school in his hometown of Santos, São Paulo but did not graduate. He showed so much natural talent at football that he chose to focus on his athletic prowess with the support of his parents. He also did not attend college.
Religion
Christianity
Residence
Neymar has two residences in Brazil, one in Portobello near Rio de Janeiro and the other in an area of São Paulo called Alphaville.
During the season, Neymar lives in an 11,000-square-foot luxury mansion in the Parisian suburban town of Bougival, a few short kilometers from the PSG training facility in Saint-Germain-en-Laye.
Neymar's Girlfriend and Kids
Neymar has been romantically linked with Katerina Safarova, has a long-term relationship with Bruna Marquezine, and recently the businesswoman/influencer, Bruna Biancardi.
He has one child, Davi Lucca da Silva Santos who was born when the footballer was 19 years old. The mother is Brazilian influencer, Carolina Dantas.
Body Statistics
Height
5 feet 9 inches or 175 cm
Weight
69kg or 152lbs
Body Build
Athletic
Hair Color
Naturally dark brown but often bleached
Eye Color
Brown
Sexuality
Straight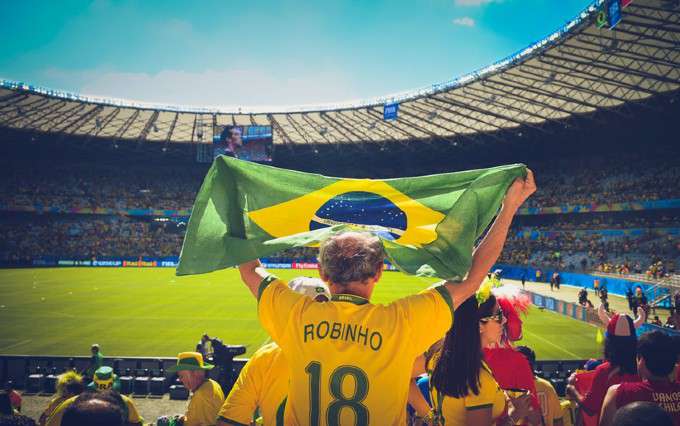 Career Overview
Neymar first started playing club football at Portuguesa Santista in his hometown of Santos. He would stay there between the ages of seven and ten until he was picked up by the bigger Santos FC where he would complete his youth career.
Santos advanced Neymar into the senior squad in 2009 at the age of 17 and signed his first professional contract. The deal would see his wage increase from 10,000 to 125,000 reais per month. It would also mark the introduction of his first sponsorship deals.
Neymar continued his ascendancy within Brazilian football being awarded individually the Chuteira de Ouro three times, the Bola de Ouro once (and coming runner-up twice), and the South American Footballer of the year twice.
At the club level, he helped Santos win the Copa do Brasil in 2010 and the Copa Libertadores in 2011. Neymar signed a contract with the European side, FC Barcelona in 2013.
Barcelona would win the Spanish La Liga twice with Neymar in their roster and even the coveted UEFA Champions League trophy in the 2014/15 season.
Neymar transferred to the French side, PSG in 2017 where he has had some success but has also been plagued with a series of injuries which has kept him off the field for extended periods. He remains at PSG today where he is one of the world's highest-paid footballers.
Neymar Jr. Net Worth
Thanks to his impressive salary which peaked at 78 million USD at Barcelona, and dozens of sponsorship deals, his net worth is reported to be 200 million USD.
Neymar Facts
Neymar is a big fan of body art and has 46 tattoos. They include portraits of his mother and sister, a lion on his hand, several religious icons, and many different words and phrases.
He set up an educational establishment, Instituto Neymar Jr., outside São Paulo.
Neymar has become synonymous with a type of modern Brazilian pop music known as músicasertaneja. He has often used his profile to promote songs by dancing to them at matches and appearing in music videos.
Modeling is another string to Neymar's bow. He was featured on the cover of the Brazilian edition of Vogue alongside supermodel compatriot Gisele Bündchen, to celebrate the start of the world cup in June 2014.