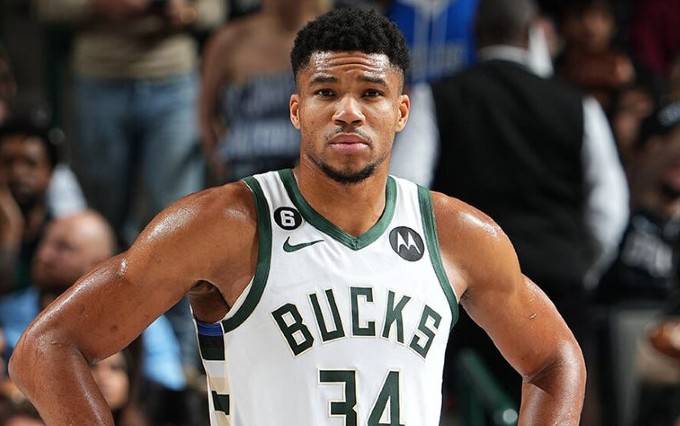 Giannis Antetokounmpo was born in Athens, Greece, in 1994 and grew up playing basketball with his brothers. Despite challenging economic circumstances, he and his family persevered and eventually made their way to the United States, where Giannis could pursue his basketball dreams.
Fast forward to today, and Giannis has already accomplished more than many players could ever dream of. With two MVP awards, multiple All-Star and All-NBA selections, and a host of other accolades, it's no wonder he's considered one of the future GOATs of the sport in several NBA predictions.
Early Life and Career
Giannis Antetokounmpo's journey is a testament to the power of perseverance and determination. Born and raised in Athens, Greece, he faced many difficulties in his childhood, including poverty and limited opportunities. Despite these challenges, his passion for basketball, which he shared with his brothers, never wavered.
Giannis' hard work paid off when he was introduced to professional basketball in Greece. He quickly made a name for himself, impressing scouts and coaches with his raw talent and impressive athleticism. Giannis' success on the court led to interest from the NBA, and he eventually fulfilled his dream of playing in the world's premier basketball league.
Rise to Fame in the NBA
Giannis Antetokounmpo's arrival in the NBA marked the beginning of a new era in his remarkable career. He was selected as the 15th pick in the 2013 NBA draft and immediately made a significant impact with the Milwaukee Bucks.
Giannis Antetokounmpo stood out among his peers with his exceptional combination of size, speed, and athleticism, captivating fans with his raw talent and dynamic playing style.
Becoming an MVP
Antetokounmpo's 2018-19 season will go down as one of the most memorable in the history of the NBA. After years of steady improvement, he exploded onto the scene, leading the Milwaukee Bucks to the best record in the league and capturing his first MVP award.
It was a moment that marked the arrival of a new superstar in the NBA and cemented Giannis' status as one of the top players in the world.
His crowing moment was leading the Bucks to an NBA championship in 2021. Following his breakout season, it was complete domination. With career averages of 22.4 points, 9.5 rebounds, and 4.6 assists per game, he's one of the most well-rounded players in the league.
And the accolades? He's got a trophy case full of hardware, including one MIP, one DPOY, two MVPs, one FMVP, and three All-Star Game MVPs.
Net Worth
Giannis Antetokounmpo has made a fortune for himself. His net worth is estimated at a staggering 70 million US dollars, a wealth accrued from various smart investments, brand endorsement deals, and a well-deserved super max contract from the Milwaukee Bucks.
Off-Court Life and Personality
Giannis Antetokounmpo is not just a basketball superstar but also a unique and fascinating person with a life outside the court. From his interests and hobbies to his philanthropic efforts and community involvement, there's much more to Giannis than meets the eye.
Giannis often spend time with his family and friends when he's not dominating on the court. He has a close relationship with his brothers and is known to be a devoted family man. He is also passionate about video games and music and enjoys exploring new cultures and cuisines.
Giannis is also deeply committed to giving back to his community and positively impacting the world. He has been involved in various philanthropic efforts, including work with underprivileged youth and efforts to combat homelessness. He is a role model to many for his incredible play on the court and his kindness and generosity.
Conclusion
Antetokounmpo's journey from an unknown prospect to one of the NBA's brightest stars has been remarkable. From his humble beginnings in Greece to his dominant play in the league, he has established himself as one of the world's most talented and exciting players.
With his impressive skills, relentless work ethic, and larger-than-life personality, Giannis Antetokounmpo has already accomplished much in his young career. And as he continues to develop and evolve, the sky seems to be the limit for this incredible talent.