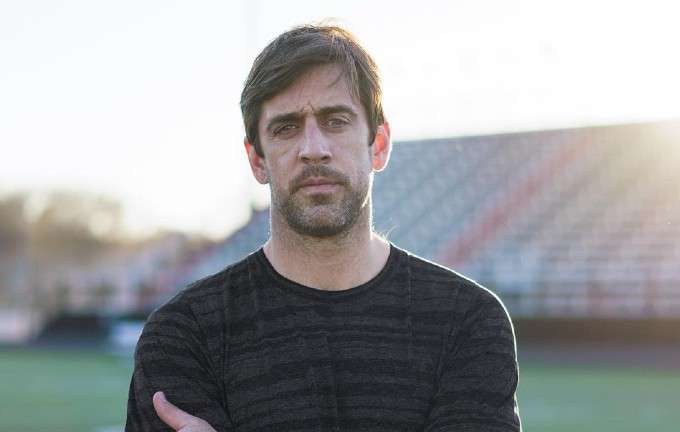 Aaron Rodgers is one of the most talented quarterbacks in NFL history, who currently plays for the Green Bay Packers. His impressive college stats have made him a popular choice in the 2005 NFL Draft and was picked by the Packers in the first round itself. His professional career was started in the year 2005, but for the first three seasons, he served as a backup for Brett Favre and became starting quarterback in 2008. In 2010, he led the Packers to victory in Super Bowl XLV. Since then, Rodgers has displayed his impressive gameplay, setting several NFL passing records throughout the course of his career. He was thrice named NFL Most Valuable Player in 2011, 2014, and 2020.
Aaron Rodgers Biography
Birth Name
Aaron Charles Rodgers
Nick Name
Aaron
Born
December 2, 1983
Age
39 years old
Birth Place
Chico, California, United States
Birth Sign
Sagittarius
Profession
Professional Football Player
Nationality
American
Ethnicity
He's of English, Irish, and German descent.
Family Details
He's one of three children to Edward Wesley Rodgers and his wife Darla Leigh (née Pittman). His father was an accomplished football player who played football as an offensive lineman for the Chico State Wildcats from 1973 to 1976. He's also a chiropractor.
While growing up, he and his siblings used to play football with his father, and eventually, he developed a strong liking for the sport. He has two siblings, Luke and Jordan Rodgers. His brother Jordan is a sports commentator and former footballer.
Education
He spent his early childhood in Ukiah, California with his family where he went to Oak Manor Elementary School. His family then moved to Beaverton, Oregon, where he attended Vose Elementary School and then Whitford Middle School. He played baseball in the Raleigh Hills Little League at shortstop, center field, and pitcher.
He attended Pleasant Valley High Schoo, located in his hometown of Chico for high school, where he started playing school football as a quarterback. In 2001, he set a single-season school record with 2,466 total yards and graduated from high school the next year.
After high school, he attended Butte Community College before getting transferred to the University of California, Berkeley. He finished off college a year before his graduation because he decided to enter the 2005 NFL Draft.
Religion
Christianity
Residence
Suamico, Wisconsin, United States
Aaron Rodgers Love Life
Aaron Rodgers is rumored to be dating model Mallory Eden right now.
In 2020, Aaron Rodgers sparked romance rumors with actress Shailene Woodley. However, they weren't vocal about their relationship until February 2021, when he revealed that he was engaged without naming her during his NFL MVP acceptance speech. Around the same time, Woodley also confirmed that she was engaged to Rodgers during her appearance on The Tonight Show Starring Jimmy Fallon. The couple has been together since the second half of 2020. They broke up in April 2022.
He was previously linked to actress Olivia Munn from 2014 to 2017 and dated former NASCAR driver Danica Patrick from 2018 to 2020.
Body Statistics
Height
6 feet 2 inches or 188 cm
Weight
102 kg or 225 lbs
Body Build
Athletic
Hair Color
Light Brown
Eye Color
Blue
Sexuality
Straight
Famous For
He's one of the most accomplished football players of all time who has set several NFL records as a Green Bay Packers quarterback. He has been named the NFL's Most Valuable Player by The Associated Press three times in his career. He also holds the record
Being linked to actress Shailene Woodley.
For his appearance as a contestant on Celebrity Jeopardy!
Aaron Rodgers Net Worth
One of the greatest quarterbacks of all time, Aaron Rodgers is quite a passionate and talented player in the NF. He's one of the wealthiest players in the world. As of 2023, Aaron Rodgers has an estimated net worth of $120 million. He earns $20 million as a salary per year.
Aaron Rodgers Facts
He was selected by the Green Bay Packers as the 24th overall pick in the 2005 NFL draft.
At age 10, he graced the covers of the Ukiah Daily Journal for winning a local basketball free throw tournament.
He was a backup quarterback to Brett Favre during his NFL rookie season. Following Bret's exit from the Packers in 2008, he became a straight quarterback.
Rodgers made his debut as a starter against Minnesota Vikings and led the Packers to a 24–19 win with 178 yards passing and two touchdowns.
In 2019, he has placed ninth on the NFL Top 100 Players for the year.
He was named NFL Most Valuable Player, NFC Offensive Player of the Year, and FedEx Air NFL Player of the Year three times in his career.
In 2020, he won the AP Most Valuable Player Award and the FedEx Air Player of the Year.
In 2021, he guest-hosted the quiz show, Jeopardy!
He has his own record label called Suspended Sunrise Recordings.
In March 2022, it was announced that Green Bay Packers extended his contract for 4 years for $200 million dollars.