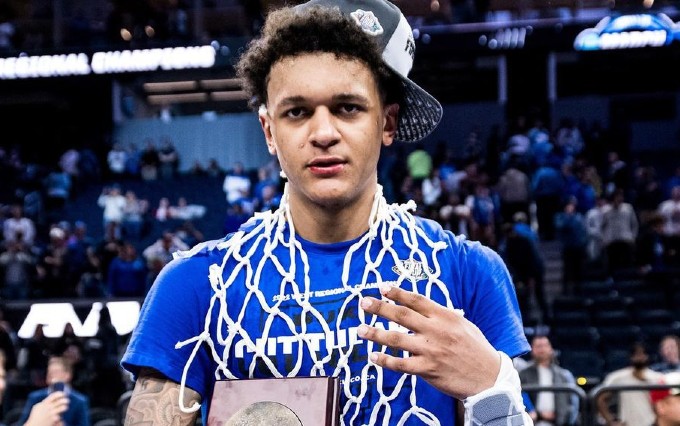 Throughout each college basketball season, there are always players (and teams) across the NCAA landscape that capture the attention and excitement of fans and the public at large.
Whether it was John Wall and his legendary dance at Kentucky, Stephen Curry, and his improbable scoring outbursts at Davidson, or Kemba Walker (Cardiac Kemba) during the UConn March Madness run, some players have found a way to connect with people and make them care about college basketball regardless of their previous allegiance or fandom.
In 2022, there were many players who seemed larger than life. But three, in particular, stood above all others — in popularity, in the general perception of the impact they'd make in the NBA, and in their impact their status on each respective roster had on the NCAAB odds available for each team, the game in and game out.
Below, we'll rank each of these three players, who may be obvious to everyone who watched NCAA basketball this past season. These three players proved their impact in the NCAA and should very soon do the same in the NBA.
With the draft rapidly approaching — and the betting opportunities that entails — each of these players has a chance at being the No. 1 pick.
3. Jabari Smith
No. 3 on our list is Jabari Smith, a forward out of Auburn who averaged 17/7/2 in his one year of NCAA play. Many pundits are indicating that Smith may go first in the draft, and due to his skill and feel for the game, this is a valid and defensible position.
But in terms of popularity and impact, he's the clear No. 3 on this list. Smith is, at least on paper and what he has shown in his college career, the total package: a bevy of offensive moves, a hard-nosed defensive mindset, and he has age and size on his side, standing 6-foot-10 and 220 lbs at just 19 years old.
Smith may not be ready to take a team to the next level just yet as a primary option, but he's absolutely ready to be a complementary piece on a team not yet ready for contention.
As his Auburn Tigers finished first in the SEC, they received the 2-seed for their side of the bracket, but a deep run was not to be. In a stunning upset that had Auburn as -330 favorites over the University of Miami, Smith and the Tigers were beat 79-61.
The reality of NCAA basketball odds is that any team can get hot at the right time and matchups (particularly on defense) can often mean the end of a successful season, regardless of seeding.
Smith will take his superb talent to the NBA, but the end of his college career was less than romantic.
2. Chet Holmgren
Coming in at No. 2 on our list of the most popular and impactful college players of 2022 is Chet Holmgren out of Gonzaga.
Holmgren is, to put it simply, an anomaly — he has the build of Kevin Durant at his thinnest while having very little of his scoring ability but making up for it with prodigious defensive ability.
That's not to say that Holmgren is awful offensively, but he's no Durant. And considering his weight (190 lbs at 7-foot-0), his defensive ability is breathtaking to behold. Despite being outweighed by the vast majority of his opponents at his position, Holmgren is an unbelievably adept defender who is able to switch onto smaller players, protect the rim and use his length effectively to shut down both slasher and jump shooters equally.
Much like Jabari Smith, Holmgren's season ended earlier than many expected, as the 1-seeded Gonzaga Bulldogs lost in the Sweet 16 to 4-seeded Arkansas, though he did make it slightly further than Smith.
That said, the NCAAB odds for their loss named it an even bigger upset, with the Bulldogs going into the game as -550 favorites.
1. Paolo Banchero
Finally, at No. 1 on our list of the most popular and impactful players of the 2022 season, is a player many people likely expected: Paolo Banchero out of Duke.
Averaging 17/8/3 on 47.8% from the field, Banchero was one of the most polished offensive talents in the NCAA this past year — if not the most polished.
But the reality of his popularity has as much to do with his talent as the school he played at. The second he committed to the Duke Blue Devils, he was loved by a portion of the country … and hated by a greater portion of it.
While Banchero is the worst defender on this list, his offense has more than made up for it thus far over his college basketball career. As he'll likely be drafted to a team that is a few years away from contention at best, he'll have the time and opportunity to develop his defense to an NBA level.
Of the three players listed here, Banchero had the most successful tournament, although he and his Blue Devils still fell short of the championship goal, falling to UNC (who also handed them their final home loss of the regular season) in the Final Four.
Of the matchups, the NCAAB odds going into Banchero's final collegiate contest were the closest, with Duke entering the game as only a – 200 favorite.
But with all of these significant favorites losing, the annual point made by NCAA basketball and March Madness remains the same: anyone can lose at any time, regardless of how highly touted they may be going into the season.
There's a lot of value to be found in NCAAB odds throughout the season and the tournament, as the talent disparity team-to-team is less of a factor than it is in the NBA.
Teams getting hot or having a particular matchup advantage can mean far more to an educated bettor's decisions, as very few of the players involved — even the most popular and impactful of the bunch — have the experience needed to ensure their consistent success throughout the tournament.