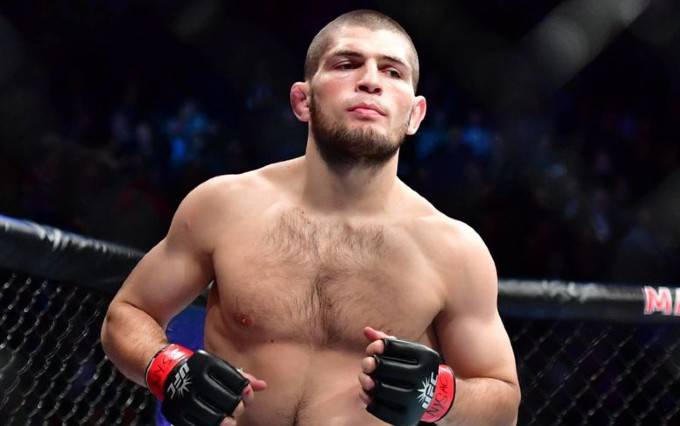 When talking about mixed martial arts (MMA) and the world's best fighters, there will never be anyone like Khabib Nurmagomedov. The Russian marked an era in the octagon and will always be known for unbeatable records.
The cage legend and former lightweight champion retired in 2021 with a 29-0 record, which made him a favorite of bettors looking at MMA and boxing predictions. It also earned him the first spot in the inauguration of the Ultimate Fighting Championship (UFC) Hall of Fame, class of 2022.
The induction into the UFC HOF fame came just 17 months after the martial artist abruptly withdrew from competition following a dominant second-round submission victory over Justin Gaethje in the main event of UFC 254 in October 2020.
A Global Powerhouse
Khabib Nurmagomedov, most often referred to by his first name, is recognized as a fighter without precedent and is often singled out as the best mixed martial arts fighter in history, largely thanks to his mastery of the cage and vast arsenal of combat resources.
These skills allowed him to win multiple accolades in his career, such as being a two-time world champion in Sambo and a world lightweight champion in the UFC.
He boasts the longest unbeaten streak in mixed martial arts, with 29 wins, and remained undefeated throughout his professional career. Also, he was the first Russian to win a title in the UFC. He proved to be an unstoppable force with an unquenchable desire to be the best there ever was.
Khabib Nurmagomedov has a number of memorable fights that are still talked about today. Among these are Khabib vs. Kamal Shalorus in 2012, his fight against Pat Healy in 2013, and the bout against Michael Johnson in 2016.
However, of all the rivalries that Khabib Nurmagomedov had in the UFC, the one that aroused the most morbidity and expectation was the one in that he starred with the Irishman Conor McGregor. McGregor was a rival with a big name, but, in the words of the Russian, was not a worthy rival over him. Nurmagomedov beat him by submission in round four of their 2018 bout.
Born To Fight
Khabib, born on September 20 in Sildi, Russia, is 34. He stands 5'10" tall and weighs about 150 pounds. He's not one of the physically biggest fighters in the world, but his raw power and fighting skills made him unstoppable.
Khabib married his current wife, Patimat, in June 2013. They now have three children, including a daughter and two sons. Khabib is also one of three siblings – he has an older brother, Magomed, and a younger sister, Amina.
Abdulmanap, their father, was an established and popular wrestler in Russia, which is how Khabib developed an interest in fighting. Two cousins are also in the UFC, and another has fought in Bellator.
Khabib Nurmagomedov began training under his father when he was six, and it's still possible to find footage of him wrestling a bear as a young boy. When he was 10, he began to learn different martial arts styles from his father, which would later contribute to his undeniable success.
Khabib Nurmagomedov has a net worth of around $45 million, according to some accounts. But his manager, Abdul Aziz, puts the figure much higher. He told media outlets in 2022 that he's worth over $100 million. That could explain why he rejected a $100-million offer from UFC boss Dana White to return to the octagon.
Khabib's passion for MMA is so great that it remains linked to this day. He can often be found at the AKA gym in San Jose, CA, teaching the secrets that led him to glory, which included headlining the largest event in UFC history in Nevada.
Nominated for ESPN's ESPY Award for Best MMA Fighter in 2021, the Russian continues to reap honors even after retirement. Because of his competitive spirit, it's still possible the fighting world might see him make a cameo appearance in the octagon at some point.