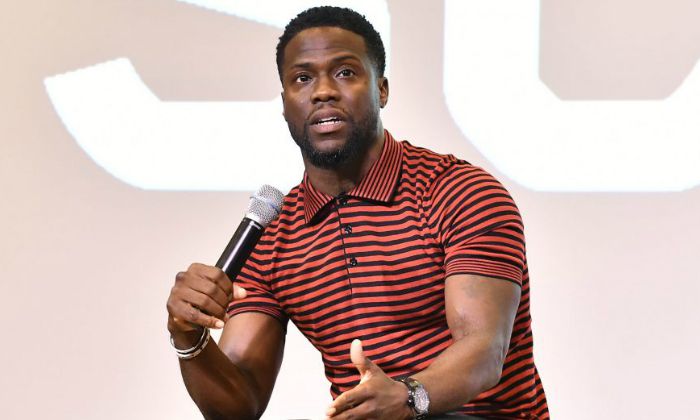 Quick Facts
| | |
| --- | --- |
| Net Worth | $170 Million |
| Date of Birth | July 6, 1979 |
| Age | 39 years old |
| Profession | Comedian, Actor Producer |
| Country | United States of America |
Kevin Hart Net Worth
Kevin Hart is an American actor, comedian, writer, and producer. He is probably known for his appearances in movies such as Scary Movie 3, The Secret Life of Pets, Captain Underpants: The First Epic Movie, Jumanji: Welcome to the Jungle, and Night School, among many others. Hart is one of the richest comedians in the world with an estimated net worth of $170 million dollars, as of 2019.
Born on 6th of July 1979, in Philadelphia, Pennsylvania, Keven briefly attended the Community College of Philadelphia. He moved to New York City, hoping to become a comedian. He did various odd jobs, including a shoe salesman before landing up as a comedian competing in amateur comedy shows in New England.
Kevin embarked his career as a comedian, doing comedy shows at clubs and events in and around Philadelphia. His early days were most of like a struggling phase, as his shows didn't pull up as much as audiences as expected until he developed his own style of comedy.
Kevin Hart got his major breakthrough when he appeared on Comedy Central in such acts as "I'm a Grown Little Man" and "Seriously Funny". He was propelled to fame and achieved stardom status with a lineup of successful acts.
From there, he made a quick transition to television and films, landing a role in the film Paper Soldiers, which happened to be his first film. Fame and success continued to follow suit with such films as Ride Along, About Last Night, The 40-Year-Old Virgin, Soul Plane, Little Fockers, and Night School.
In addition to acting, Kevin Hart has released four more comedy albums, Seriously Funny in 2010, Laugh at My Pain in 2011, Let Me Explain in 2013, and What Now? in 2016. His "Laugh at My Pain" show had minted over $15 million, making it one of the year's top-selling comedy tours.
He has also hosted a number of special shows and award events, including Comedy Central Roast of Justin Bieber in 2015 and co-hosted MTV Movie Awards with Dwayne Johnson in 2016.
Kevin Hart resides in Los Angeles, California. He has quite an expensive collection of luxury cars, including a Mercedes-Benz SLS AMG, a Mercedes-Benz G63 along with other brands such as Audi and Ferrari.
Kevin made around $29 million in 2015 and most of his fortune comes from his comedy shows, film and TV appearances, brand endorsements, and investments. As of 2019, Kevin Hart's net worth is $170 million dollars.